Media Release
Donations to BUH Foundation are Saving Lives
June 11th 2021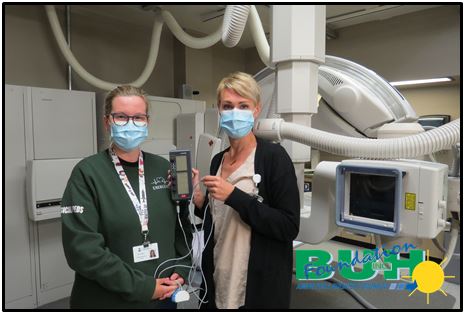 (l-r) Kendra Oliphant, Clinical Resource Nurse and Megan Wiese, Clinical Nurse Educator with the Dual Chamber External Pacemaker in the Fluoroscopy Room at BUH.
North Battleford, SK – A new dual chamber external pacemaker has been purchased and is saving lives at Battlefords Union Hospital (BUH) because of the generosity of donors to BUH Foundation. The new pacemaker was purchased through surplus funds raised from the 2020 $100,000 Cash Lottery "Ask" line. The "Ask" line provided ticket buyers the opportunity to make a charitable donation to support the purchase of equipment in the Emergency Department (ED) at BUH. This giving has made an impact in our community.
"We are very grateful for the funding to purchase the dual chamber external pacemaker for the Emergency Department for The Battlefords. This is an essential piece of equipment required for those patients suffering from heart abnormalities. Having this unit available on site for our ED physicians means those suffering from heart conditions and requiring a pacemaker will receive the most optimal care here at BUH. Thank you for your donations that made this purchase possible," expressed Lauren Stade, Manager of Clinical Services, Emergency/Ambulatory Care/Intensive Care/Respiratory Therapy.
A dual chamber external pacemaker can be used to treat patients suffering from symptomatic bradycardia (slow heart rate) or tachyarrhythmia (fast heart rate). It provides temporary electrical cardiac stimulation through wires inserted into the heart chambers and stabilizes a patient's heartbeats. Once stable, patients can be safely transported to a tertiary hospital where a cardiologist is available for further care and a permanent pacemaker may replace the external unit.
It has been a number of years since BUH has had the equipment to perform the temporary external pacemaker procedure. During the interim, a cardiologist was flown in with the equipment to help assist with the procedure and then safely transport the patient. Now however, Emergency Department physicians at BUH are trained to complete the procedure and, with the support provided through the Foundation, have access to the equipment required. Having the training and equipment readily available means treatment can be initiated immediately, without time delays, and lives can be saved.
"It is the mission of BUH Foundation to enrich patient care in The Battlefords. We are grateful when the donations are available to meet the needs to complete this mission and benefit our community. In many ways it appears to be such a simple piece of equipment, but it is so important and has a huge impact for patients," shared Claudette McGuire, BUH Foundation Executive Director, "we are pleased that we can be there to match the donors with the needs and make a difference for others."
During emergency situations, the procedure to insert the temporary external pacemaker is completed within the ED using a bedside ultrasound machine. This machine provides a visual and helps to determine proper placement of the pacemaker wires. The ultrasound machine was funded in 2019 with proceeds from BUH Foundation's $100,000 Cash Lottery. The temporary external pacemaker may also be inserted using the fluoroscopy unit available within BUH's Medical Imaging department. A fluoroscopy unit provides real-time x-ray images during the procedure. The purchase of the fluoroscopy unit was supported through BUH Foundation's fundraising events: 2013/2014 $100,000 Cash Lottery, Festival of Trees and Ladies' Night and 2014/2015 Monthly Cash Lottery and Wayne Pruden Memorial Golf Tournament.
Thank you for supporting BUH Foundation and enriched healthcare within The Battlefords. Every dollar raised stays within the community. For further information on BUH Foundation, fundraising projects or ways you can help, please call the Foundation office at 306-446-6652 or email claudette.mcguire@buhfoundation.ca.
-30-

MEDIA:
For more information, contact:
Claudette McGuire
BUH Foundation Executive Director
Ph. 306-446-6652
Email: claudette.mcguire@buhfoundation.ca
About Battlefords Union Hospital (BUH) Foundation:
Battlefords Union Hospital (BUH) Foundation is dedicated to enriching patient care at BUH through responsible stewardship of community contributions and volunteer resources. BUH Foundation, operating independently of other healthcare organizations, is the main fundraising agency of BUH and provides funding for the purchase of capital/non-capital equipment and staff education. Through a bequest from Victor Pearsall in 2011, BUH Foundation began the Victor Pearsall Home Care Fund allowing funding for Battlefords Region Home Care. For more information about BUH Foundation visit www.buhfoundation.com.